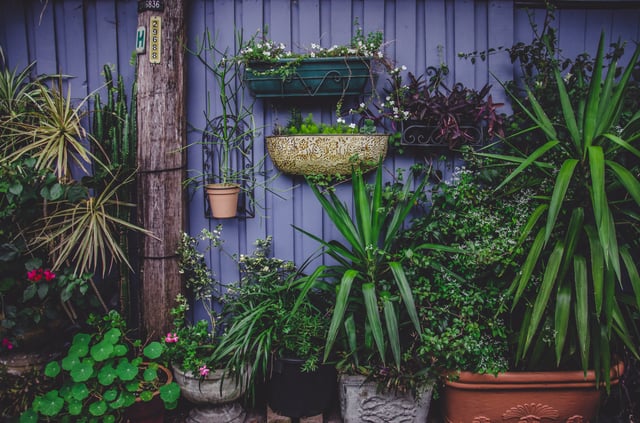 The laws of physics tell us that an object in motion stays in motion. So, it would stand to reaso that a gardening in action stays in action, no? What I'm trying to say is let's get started! You'll never become an expert gardener, surrounded by lush, colorful plants if you never sow a single seed.
Planning an urban garden takes some thought and planning, but it isn't rocket science - you can quickly become a gardener guru. Here are 3 easy steps to starting an urban garden.
Step 1: Pick out an area for your garden
Start by taking stock of your space. Do you have a patio, roof deck, fire escape, sunny windowsill, extra space in the kitchen? By first identifying where you will start your garden, you'll be able to easily determine the other essential tools you will need to make sure your garden grows and doesn't wilt.
The good news is, with modern technologies such as aquaponics and grow lights, you don't need to have access to natural sunlight or large amounts of outdoor space. Those are great of course, but no longer a requirement.
Step 2: Decide what crops you want to grow
Now that you know where you want to have your garden oasis, it's time to decide what specific plants you want to grow. Are you interested in having a garden full of flowers - marigolds, sunflowers, pansies, etc.? Life in the city doesn't limit you to flowers - do you want to have access to locally grown and organic vegetables? You can plant them right in your urban garden! The same goes for herbs, and in many instances, planting different crops next to one another help ensure healthier growth.
Step 3: Gather your tools
This is not a drill. You will need a few tools to get your garden in the city started. In addition to soil, sun, and water, you will need to track down pots, soil, fertilizers, watering cans -or a hose if you have a water hook up, and a reliable trowel that will last.
Step 4: Tend to your plants
Some gardens will grow wild, but if you want to make sure your city stems flourish, make sure you have time set aside to water them daily. If you'll be out of town for a few days, or work long hours, don't worry, there are ways to set up a self-watering system.
Monitor your beds and make sure that your plants are getting the nutrients they need. If they're a full sun plant, for example, and you set the planter up in a partial sun spot to start, make sure to move the planter to a full sun spot as the season progresses to make sure the plants are getting all the sun they need.
Step 5: Soak it up
Make sure you leave time to enjoy the fruits of your labor! Block a few hours on your Saturday morning to read outside on your patio among the budding plants, or organize a girl's night dinner with friends where the menu is planned around your recently harvested vegetables. The possibilities are endless!
Need some more inspiration? Check out our Twitter feed or Facebook page for spotlight examples of great urban gardeners.